BER-MONTH PROMO + FREE SHIPPING NATIONWIDE
Take this for a deeper and peaceful sleep. (this is not a sleeping pill), it's a food supplement, please see below are the main ingredients:
This is made with quality in mind, Sleepify naturally promotes an exceptional sleeping experience with a globally – proven formula for a longer and deeper sleep.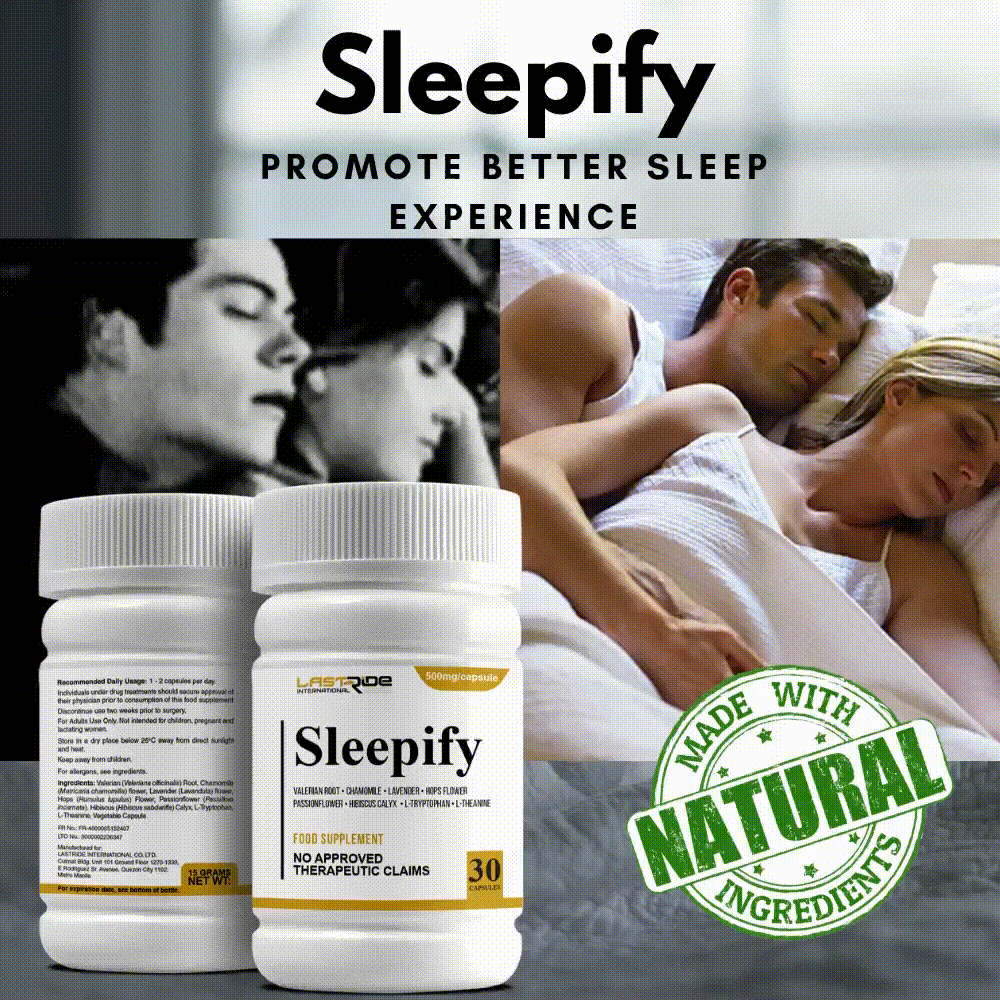 Not to be confused with a sleeping pill, our unique combination of premium therapeutic-grade Valerian Root, Chamomile Flower, and Lavender puts our bodies in the ideal state of rest and sleep.
Health Benefits:
Improves sleep quality

Enhances resting conditions

May help with anxiety

Initiates a sense of peacefulness and calm

May help with mental focus and grounding
Specifications:
Net Weight: 15g

500mg/capsule

30 capsules per bottle
ALL ORGANIC ALL NATURAL INGREDIENTS:
Valerian Root- improves overall sleep quality and decreasing nights awakenings
Chamomile- contains apigenin that helps your produce sleep
Lavender- decreases anxiety disorder, improves sleep quality
Hops Flower- reinforces the daily biorhythm of rest and activity
Passion Flower- it reduces the symptoms of insomnia
Hibiscus Calyx- calms your nerve and making your body more relaxed
Each capsule is meticulously made with premium therapeutic-grade plants, herbs, and oils that help soothe and relax our bodies into the best possible state of rest and sleep. Blended with known calmatives such as Lavender and Valerian Root, it takes your usual slumber to another level.
Indications:

SLEEPIFY should be used as a dietary supplement to complement other positive lifestyle habits. Since this is a food supplement, the effect will depend on your body reaction, and in some cases, the effect is not instant as this is not totally a sleeping pill.

Legal Disclaimer

These products and recommendations are not intended to diagnose, treat, cure, or prevent any disease. The information published within this site is intended for educational purposes only and should not be used in place of qualified medical advice. You should consult with your doctor or qualified medical professional before using any supplemental product, diet, or exercise.

LASTRIDE International products are naturally formulated and are intended to be used per the information provided here and a correct diet.
FAQs:
How do I  take it?
You may take 1-2 capsules per day, the recommended time is 3 hrs before bedtime.
What's the dosage?
Each capsule is 500 mg.
Is this FDA Approved?
Yes, here's our FR no: FR-4000005154207 & LTO no: 3000002236347
Is there melatonin included?
No, it has no melatonin, since this is a food supplement, all the ingredients are organic and natural that will help you enhance the sleeping quality for you to get a deeper and longer sleep.
 FDA LICENSE 
⚠️ PLEASE TRANSACT ONLY WITH LEGIT & AUTHORIZED DISTRIBUTORS