Say goodbye to the troublesome protection with your charging cable, this flexible data line can be used for a long time. Quality is our main priority.
4 easy steps to complete the repair:  
It's highly durable, even if the wire has malfunctioned, it can be easily repaired. Easy to carry, suits every occasion. It's also compatible with the new devices and systems out in the market, new iPhone Models XS/XR/XS Max.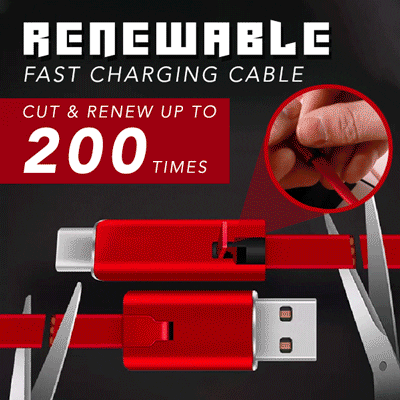 Features & Benefits:

1. FAST CHARGING - High-quality four-core copper wires that enhance the charging speed of the cables. Our technology ensures a faster charging time while keeping your device completely safe.

2. CONNECTOR PLUG DESIGN - Compact lightning USB connector head fits most phone cases and accessories, you don't have to take the case off when charging, it is very easy and convenient to use.

3. REAL-TIME RESPONSES- No Error Message will pop up. Real High Speed for iPhone/Android/Type-C Fast USB Lightning Charging Cable with stable and efficient current output, you can plug it into laptop computers and in-car charging adapter as well.

Specifications:

Color: Blue, Red, Black
Length:1.5m
Cable Type: for iPhone, for Micro USB
Current: 2A, do not support QC 3.0 fast charging